Volunteer Livingston Celebrates Helpers
Appears on WHMI 93.5 Local News: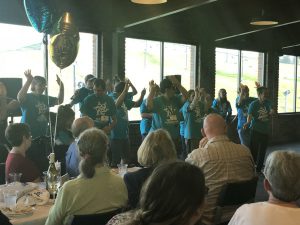 A special event was held to honor those who have dedicated their time for a greater cause over the past year.
Volunteer Livingston held their annual Cheers to Volunteers "thank you" event at Mt. Brighton, Thursday night. Roughly 100 people were treated to dinner as a sign of gratitude for their help with helping those who need it most. Volunteer Livingston is a program of the Livingston County United Way that has matched up thousands of people to various organizations and non-profits since its inception in 2002. Along with the meal, those in attendance were also treated to a special dance presentation from Special Ministries. Program Coordinator Diane Duncan said many of the volunteers they've matched up have shared how rewarding the work is for themselves, and that it far outweighs what they ever thought.
United Way Executive Director Nancy Rosso was the event. Rosso said there's a program that needs help for almost any interest a volunteer might have. She said the program has been increasingly successful with seniors as they have more time to share in retirement. Those in between jobs can also use it as a way to bolster their resume. For more information, including links to the many organizations in the county that need help, visit www.volunteerlivingston.org. (MK)